Reclaim Our Republic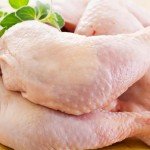 Mar 5, 2017  by: Dena Schmidt, staff writer
NaturalHealth365) Americans love chicken. Whether from factory farming or organic free range chicken, we eat an average of 84 pounds of it per person per year. However, nutrition experts from Physicians Committee for Responsible Medicine (PCRM) are now warning that

grocery stores and factory farming are bringing you meat contaminated with chicken feces.



Scientists from the PCRM were surprised at just how common it was to find contaminants on grocery store chicken.  For the study, chicken products from 15 U.S. grocery store chains in 10 cities were tested for E. coli bacteria as evidence of fecal contamination.
E. coli plus toxic chemicals and viruses found in store-bought chicken
Some of the chicken products from each store chain and city tested positive, and overall, 48 percent of the samples tested positive for E. coli.  In addition to feces, store-bought chickens have…
View original post 414 more words