Jasper and Sardine
Conspiracy theorists are always labeled as nut-jobs until something they claimed actually ends up being truthful and evidence based. Once they are proven to be right, it's as if they never said anything in the first place. Well, congrats theorists because we were right once again.
Not that conspiracy theorists are always right, because they definitely aren't. Honestly, the term conspiracy theorists is extremely wide and inaccurate. A conspiracy theorist was originally defined by the act of questioning the truth, and theorizing from their own original thoughts – which is crucial to do, especially in today's society. These days the word conspiracy theorist has gained a rather negative connotation. When people hear the word they automatically envision some person claiming outrageous things and wearing a tin foil hat. But in all reality, a conspiracy theorist is someone who questions the truth and finds answers for themselves.
View original post 468 more words
Jasper and Sardine
Trump and his current administration want you to believe that in order to "Make America Great Again", the God of Christians and Christian values must be at the forefront of how the nation is governed.
Trump said himself at the Value Voters Summit (aka yearly gathering of the far-right, hate groups and white supremacists) he plans to stop cold the "attacks on Judeo-Christian values", erasing the fact that individuals of all faiths other than Christianity are the ones truly under attack. In addition to his outlandish remark- to prove that Trump is truly out of touch when it comes to what this county needs or wants, according to research, the majority of America does not agree with his sentiments.
As the Pew Research Center has found- "more Americans than ever before believe that you don't need to believe in God to be moral and have good values." Trump is simply pandering to his voter base of…
View original post 241 more words
Reclaim Our Republic
Grassley probes Clinton 'conflicts of interest' amid new questions in Russia uranium deal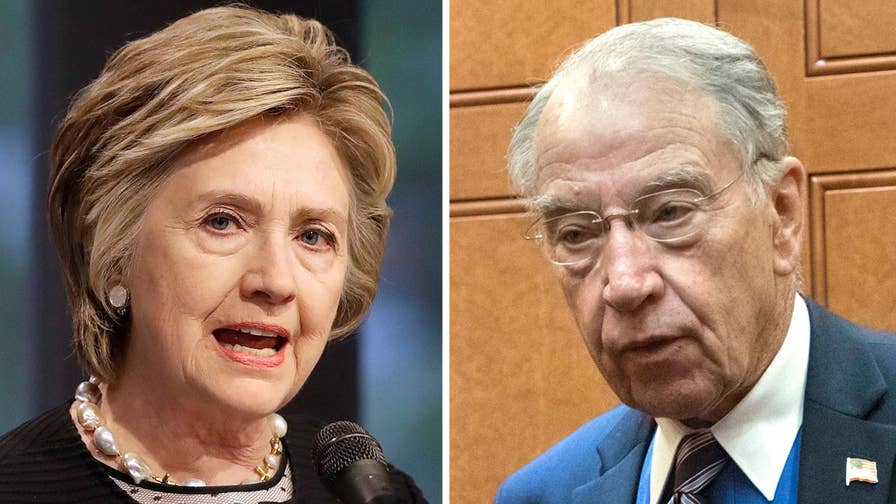 Oct 18, 2017 By Brooke Singman
A top Senate Republican is probing potential "conflicts of interest" for Hillary Clinton and the Obama administration regarding the 2010 approval of a controversial uranium deal with a Russian company, amid new details about donations from "interested parties" and an FBI corruption probe involving employees of the same Russian firm.
"This committee has an obligation to get to the bottom of this issue," Senate Judiciary Committee Chairman Chuck Grassley, R-Iowa, said Wednesday, at the start of a hearing with Attorney General Jeff Sessions.
The Hill reported a day earlier that the FBI had evidence as early as 2009 that Russian operatives used bribes, kickbacks and other dirty tactics to expand Moscow's atomic energy footprint in the U.S. — but the Obama administration approved the uranium deal benefiting Moscow anyway.
Grassley on Wednesday…
View original post 2,235 more words
Jasper and Sardine
George Soros, who built one of the world's largest fortunes through a famous series of trades, has turned over nearly $18 billion to Open Society Foundations, according to foundation officials, a move that transforms both the philanthropy he founded and the investment firm supplying its wealth.
Now holding the bulk of Mr. Soros's fortune, Open Society has vaulted to the top ranks of philanthropic organizations, appearing to become the second largest in the U.S. by assets after the Bill and Melinda Gates Foundation, based on 2014 figures from the National Philanthropic Trust.
Soros Fund Management LLC's 87-year-old founder now shares influence over the firm's strategy with an investment committee of Open Society. Mr. Soros set up the committee and is its chairman, but it is meant to survive him, people familiar with it said.
A new chief investment officer at the Soros firm is less a trader than an allocator…
View original post 1,576 more words
Jasper and Sardine
Maltese Investigative Journalist Daphne Caruana Galizia, who was described as a "One-Woman WikiLeaks" after she led the Panama Papers investigation, was killed on Monday afternoon in a car bomb near her home.
Galizia's career was devoted to exposing establishment corruption, and her most recent work revealed that Malta's prime minister, Joseph Muscat, and two of his closest aides, had connections to offshore companies that linked them to the sale of Maltese passports, and showed that they had received payments from the government of Azerbaijan, according to a report from the Guardian.
During a press conference on the attack, Muscat acknowledged Galizia's work, and said, "Everyone knows Ms. Caruana Galizia was a harsh critic of mine, both politically and personally, but nobody can justify this barbaric act in any way."
However, Galizia's son is not convinced, and he referred to Muscat as a "clown" who was taking advantage of the…
View original post 665 more words
Reclaim Our Republic
'These lobbies of the 'culture of death' are about to win a decisive victory'
Perhaps the ultimate example of bureaucratic double-speak is developing at the United Nations, where officials are set to adopt a new definition of the "right to life."
It apparently now will include a "right to abortion."
The Human Rights Committee's proposed revision regarding the right to life in Article 6 of the International Covenant on Civil and Political Rights says, "States must provide safe access to abortion."
The European Center for Law and Justice, which has a presence at the U.N., has submitted a statement in opposition, charging the proposal is an "attempt to create a universal right to abortion."
"Indeed, the Human Rights Committee, in its last draft general comment on Article 6 on the right to life, is trying to impose the legalization of abortion and euthanasia against the will of…
View original post 557 more words
Reclaim Our Republic
Four key Las Vegas shooting witnesses are now missing or dead – coincidence or cover up?
1) John Beilman:   killed both himself and his disabled daughter in an apparent murder-suicide. He was wanted for questioning by federal agents in connection with a communications device discovered in suspected shooter Stephen Paddock's hotel room.
Neon Nettle reports:  Agents executed a search warrant and raided Beilman's Williamsburg Drive home the day before he took his daughter, Nicole, into the backyard and shot her and then himself in the back of the head with a 12-gauge shotgun.
2) Chad Nishimura: a Mandalay Bay valet who parked Paddock's car when he arrived at the hotel, has also disappeared without trace after giving a statement to a Hawaiian mainstream news network, KITV4, about his brush with the killer. Nishimura directly contradicted the official narrative by claiming that Paddock arrived at the hotel with "not…
View original post 275 more words